What Is A Diplomatic Immunity?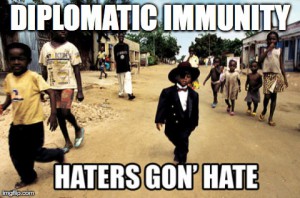 Definition of the diplomatic immunity is provided by the international law. The main legal act which regulates the ideas of this type of immunities is Vienna Convention on Diplomatic Relations (1961). We can understand the diplomatic immunity as insurance for diplomats to have safe passage and do not be susceptible to lawsuit and prosecution in the host country from the text of the Convention. In other words, the immunities are protecting their owners from the jurisdiction of the country in which they are present (Frey, 2015).
The diplomatic immunity is not considered to be something new for XX century. It has a long history back to the Ancient times. Its origins are found in the customary law, namely among the customs of war. The receiving state gave for diplomats, who represent a sovereign state, certain privileges and immunities to create appropriate conditions for the effective performance of their duties, with the understanding that they are granted on the basis of reciprocity. So should it be regulated? No doubts, yes. Initially these privileges and immunities granted by bilateral agreement, on the basis of ad hoc, which often led to misunderstandings and conflicts. That's why it was decided in XX century to hold the codification of the rules and agreements that provide uniform standards and privileges for all states.

In my opinion, it was a very positive step for the whole international community to adopt such legal act and have regulated the diplomatic relationship between states. But sometimes these general rules cannot be applied. For example, once Qatari diplomat was smoking onboard a flight from Washington to Denver. He caused a big panic. When U.S. marshal made remarks, man threatened his diplomatic immunity. (Beam, 2010). Of course such behavior is unacceptable and there are some legal exceptions in the text of Vienna Convention and others legal acts. But are they enough? I don't think so. The world legal community should work on solving a problem of restricting diplomatic immunities.
References
United Nations. (1961). Vienna Convention on Diplomatic Relations. Vienna: United Nations Conference on Diplomatic Intercourse and Immunities. Retrieved from http://legal.un.org/ilc/texts/instruments/english/conventions/9_1_1961.pdf
Frey, L. (2015). Diplomatic immunity. In Encyclopædia Britannica. Retrieved from http://www.britannica.com/topic/diplomatic-immunity
Beam, C. (2010). Can't Touch This. How far does diplomatic immunity go? Retrieved from Slate Web site http://www.slate.com/articles/news_and_politics/explainer/2010/04/cant_touch_this.html