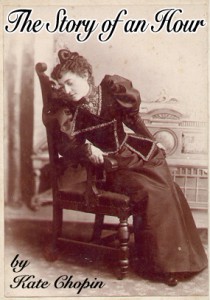 Freedom and independence have always presented a great concern for women in the United States. In this case, Kate Chopin's "The Story of an Hour" is one of the greatest illustrations of a struggle against oppression and gender inequality in the American literature. In fact, when Chopin has written her story at the end of the nineteenth century, the American government had just abolished slavery, and the women had been deprived of the right to vote till 1920. It makes no wonder that such a theme became a foremost for Chopin who is now considered to be one of the forerunners of feminism.
The main character in "The Story of an Hour," Louise Mallard, is a typical wife of the 1890s who experiences a lack of personal freedom. When Louise gets to know about her husband's death she starts realizing the potential pleasure of her independence. During their marriage, Louise's husband had possessed her, completely directing her life. With his death, Louise quickly learns that she is the only person in the world who has the right to control her own life, sitting in her room she keeps whispering "Free! Body and soul free!" (Chopin, ). As such, through discovering and assuming her independence, Louise transforms into a woman who is self-possessed instead of being controlled by the will of her husband. However, all her expectations and joys become absolutely diminished when Mr. Mallard turns out to be alive. When he returns, he draws away Louise's freedom, making it unreachable to her once again.

Kate Chopin's "The Story of an Hour" effectively represents the value of equality and liberation for all American women. It is a powerful story that marks a difficult period at the entire American history.
References
Bancroft, G., & Nye, R. (1966). The history of the United States of America from the discovery of the continent. Chicago: University of Chicago Press.
Chopin, K. (2001). The story of an hour. Logan, Iowa: Perfection Learning.
You've read a literature essay sample on life writing that demonstrates how an academic paper should be written. However if you can't handle essay writing, get help from WriteMyPapersOnline. With our help, you can forget about your worries as our writers are professionals in academic writing. All you have to do is to place an order on our site including all your requirements and setting the deadline.