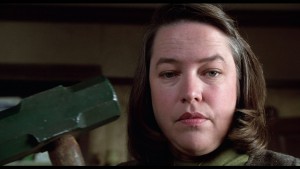 The novel "Misery" was written by renowned author Stephen King. Unlike many of his well known epic tales of intrigue and suspense involving a full roster of characters, this story or terror and torture employs a cast of two. "Misery" focuses on Paul Sheldon, a well know and popular writer who has become famous for his wonderful Victorian-era romance novels. His stories center around the main protagonist named Misery Chastain who has quite a fan following herself.
Early on in the story, Paul drives off a cliff the road during a snow storm and crashes upside down at the bottom of a cliff. Paul is miraculously rescued by Annie Wilkes, who says she is his biggest fan and loves all of his books about Misery. Annie is a former and happens to live nearby so she takes him to her house instead of taking him to the hospital, and devotes her time and skills to caring for him and his extensive injuries. Using her wide range of nursing and medical skills and he surprising supply of food and stockpiled medical supplies she nurses him back to health. She has everything she needs to take care of him, including an illicit supply of some of the strongest codeine-based painkillers. She keeps telling Paul that she is his biggest fan and cant wait to read the next book in the series about Misery Chastain.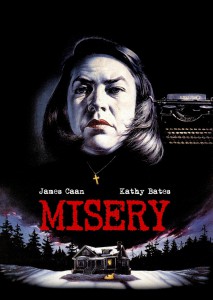 Paul tells her that he has the manuscript that he had just finished writing before his car accident and he lets her read it. However, when she finds out the content of the book and what his plans are for her favorite character, she becomes angry and violent. They argue and in the end Paul is punished with several wicked and cruel actions- culminating in Annie breaking his legs and holding him hostage in her home. Her plan is to force him to re-write the book the way she wants it with the ending she had in mind for Misery Chastain. Paul, who has done extensive research for his stories and his own projects has a good understanding of mental disorders, and he strongly suspects that Annie is dangerously disturbed and that he is in a great deal of danger unless he can somehow escape the wheelchair he is chained to. This is demonstrated where in the story when Paul thought "Here was a woman who had been a nurse—he was sure of that. Was she still a nurse? No, because she did not go to work. Why did she no longer practice her trade? That seemed obvious. Not all her gear was stowed right; lots of it was rolling around in the holds. If it was obvious to him even through the haze of pain he had been living in, it would surely have been obvious to her colleagues" (Misery, pg 14).
"Misery" is a twisted, chilling, and disturbing story. Annie Wilkes may be one of Stephen King's most terrifying characters ever created because she is so normal and also so deranged and terrible at the same time. Unlike many of Stephen King's books there is no wide sweeping backdrop for this story and there is no expanse cast of characters. Two characters, one room, and one twisted terrifying plot are enough to make "Misery" one of the best thriller novels out there! There are plenty of twists and turns and creative descriptions that bring the story to life, despite its simple stationary setting. A prime example of this is seen when Paul risks it all for a chance to escape and burns the manuscript for Misery Chastain's next book. "The match was guttering, printing its small heat on the tips of his fingers. He dropped it. For one terrible moment he thought it had gone out, and then pale-blue fire uncoiled across the title page with an audible sound—foomp! It ran down the sides, tasted the fluid that had pooled along the outer edge of the paper-pile, and shot up yellow. " Simple yet vivid descriptions such as this keep the reader engaged and enthralled so much that one does not need a large cast of characters or a huge backdrop for the story. Stephen King does it like he always does, creating a captivating and disturbing story about one man's fight for survival.
Bibliography 
"Misery" Stephen King. Published by Signet of New American Library in 1987.
Stephen King Misery. StephenKing.com. Accessed Sept 10th, 2015. http://stephenking.com/library/novel/misery.html
Look at our literature essay sample on Misery to see hoe an academic paper should be written. WriteMyPapersOnline is a professional writing service that offers high-quality papers written with an individual approach for every customer. If you don't want to miss the deadline, or get a low grade, you've found the right place. From now on, you will have a good reputation in your college or university. If you want to buy a paper at an affordable price, just place an order with your requirements and set the deadline. Students' interests are our primary concern. That's why you can be sure you'll get professionally written papers.