What's the best and most heartbreaking book or novel that you've ever read in your whole life, that made you cry?
"Flowers for Algernon" by Daniel Keyes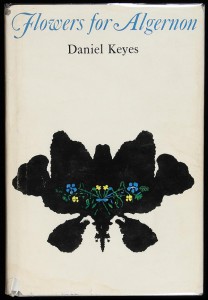 An infinite number of words has been said about the book written by Daniel Keyes "Flowers for Algernon", where the author tells a story of a boy who suffered from irreversible mental retardation. This book is seen as one of the most humane works of modern times, as a novel with piercing psychological forces, and as a filigree development of the theme of love and responsibility. Unsurprisingly, after finishing this book it is impossible not to cry.
One must admit that this story cannot be perceived by the brain, but felt by heart. The brain simply does not have time to encompass the storm, raised by emotions in the book. In fact, this is what gets a reader hooked. The narrative from the first person creates real magic that allows a reader to live the story and experience a storm of emotions. For instance, at the beginning a reader meets with an adult with child's mind: "Its easy to make frends if you let pepul laff at you." (Keyes, 2006) Sympathising the main hero, a reader starts to believe in this fiction story since gradually the story of the diary becomes much more plausible than it might seem at the outset.

Finally, this is a book of incredible power. "Flowers for Algernon" is a touching tragic story of human evolution. Undoubtedly, everyone will be able to find answers to the eternal questions of intelligence and humanity in this book. Daniel Keyes style of writing is very subtle. He does not press on a reader, his story is told smoothly and easily, even such a complex and controversial history as the story of Charlie. Hence, it was impossible not to cry when finishing the book with Charlie's words: "P.S. please if you get a chanse put some flowrs on Algernons grave in the bak yard". (Keyes, 2006)
References
Keyes, D. (2006). Flowers for Algernon. London: Orion.
You've read a literature essay sample that demonstrates how an academic paper should be written. However if you can't handle essay writing, get help from WriteMyPapersOnline. With our help, you can forget about your worries as our writers are professionals in academic writing. All you have to do is to place an order on our site including all your requirements and setting the deadline.