Do you think the accused in Twelve Angry Men is guilty?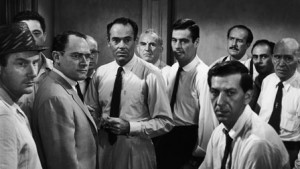 "Twelve Angry Men" is a play in three acts by Reginald Rose where twelve jurors decide nineteen-year-old boy's destiny who is accused of stabbing his father to death. The judge stresses that the accused must not be declared guilty when "there is a reasonable doubt" (Reginald, 2006, p. 9). According to Black's Law Dictionary, a reasonable doubt always presumes a lack of evidences which enables the court to acquit the accused (Garner, 2009, p. 394).
There are really serious evidences against the boy: a threat of killing his father shortly before the murder; the wound fits to the model of his knife. Moreover, the boy has a criminal past connected with theft and mugging. The jurors seem not to be in doubt concerning the verdict when the 8th Juror suddenly votes "not guilty" (Reginald, 2006, p. 14). This man explains such a decision by his doubts and vague proofs. The 8th Juror always repeats that the man's life is at stake and they cannot deliver a judgment without a preliminary discussion.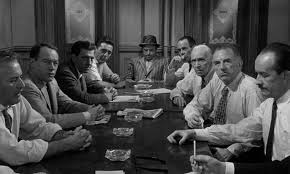 At the beginning, the rest of the jurors are prejudiced against the accused. The 10th Juror says: "Look at the kind of people they are – you know them." The boy is poor and from a problem family. Perhaps, he is of another nation or race as well. However, the 8th Juror is not interested in his past, ethnic or social background for this particular case. This juror undermines the gravity of proofs by logical arguments and makes the others think. Gradually, the 8th Juror receives support which becomes unanimous in the end. This man is not sure in boy's innocence but the evidences are not enough for claiming him guilty as well. It is that case of a reasonable doubt, and since there are no reasonable proofs, the accused is "innocent until proven guilty" (Levesque, 2006).
Garner, Bryan A. (2009). Black's law dictionary. (9th ed.). Eagan, MN: West Publishing.
Levesque, Roger J.R. (2006). The psychology and law of criminal justice processes. New York, NY: Nova Science Publishers, Inc.
Reginald, R. (2006). Twelve angry men. New York, NY: Penguin Classics. 
You've read a law essay sample that demonstrates how an academic paper should be written. However if you can't handle essay writing, get help from WriteMyPapersOnline. With our help, you can forget about your worries as our writers are professionals in academic writing. All you have to do is to place an order on our site including all your requirements and setting the deadline.